5th Annual Take the First Step Walk-A-Thon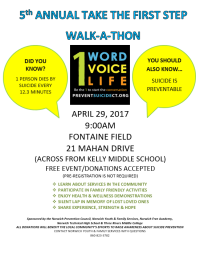 From April 29, 2017 9:00 am until April 29, 2017 12:00 pm
Did you know that 1 person dies by suicide every 12.3 minutes? Join Reliance Health and many other community organizations as we participate in the 5th annual Take The First Step Walk-A-Thon, to bring awareness to the effects of suicide and promote suicide prevention.
Learn about services in the community
Participate in family friendly activities
Enjoy health & wellness demonstrations
Silent lap in memory of lost loved ones
Share experience, strength, & hope
This is a free event sponsored by the Norwich Prevention Council, Norwich Youth & Family Services, Norwich Free Academy, Norwich Technical High School, & Three Rivers Middle College. Pre-registration is not required. All donations will benefit the local community's efforts to raise awareness about suicide prevention. Contact Norwich Youth & Family Services with questions at (860) 823-3782.