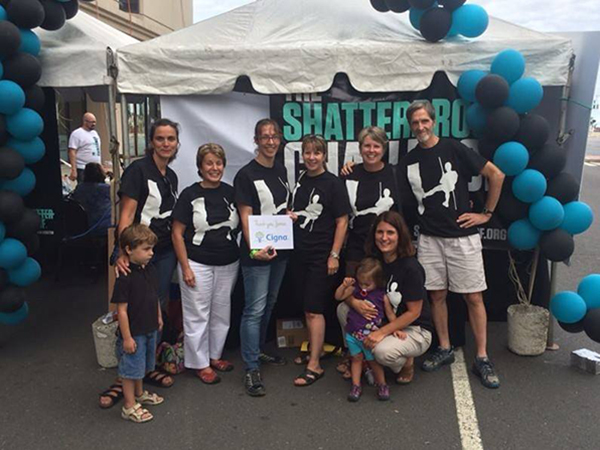 Carrie Dyer, Chief Operating Officer
For me, Tuesday, July 29th was not an average day in the office. With the help of Cigna, I was able to represent Reliance House at the "Shatterproof Challenge" at the Hartford Hilton. The event consisted of rappelling down the 22 story Hilton Hartford and it was, simply put, AMAZING.
I was surrounded by friends and family, got great instruction from the "Over the Edge" crew and was literally on top of the world while simultaneously being just a pinch terrified on the roof. Interestingly, the rappel wasn't the hard part. The part of the day that challenged me the most was writing the names of my loved ones that I've either lost or am losing [directly or indirectly] to addictions on the Shatterproof wall. It's a rare person (particularly in our field) who can say that their lives haven't been touched by addiction and that is why I choose to rappel. Gary Mendell, whom I met on Tuesday, has begun a national movement to start that discussion and break down the stigma through Shatterproof. His cause is a worthy one and it resonates with the Reliance House values. I'm so proud to have been a part of this Challenge and pair our mission with that of Shatterproof's. Thank you to everyone for your words of support and encouragement before the event, for being there with me while I took on this feat and for the subsequent praise afterwards - exactly the methodology to remember and apply to our members, friends and family members who are facing the challenge of addiction.
More pictures are available on our Facebook page Shatterproof photo album.
Carrie
P.S. Check out Shatterproof's website:
www.shatterproof.org