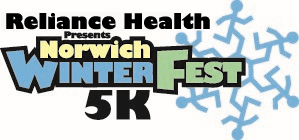 On November 25th, 2017, hundreds of runners and spectators will be gathering at Norwich Free Academy for the 5th annual Norwich WinterFest 5K. Will you join Reliance Health and the Hartford Marathon Foundation as we bring the crowds to Norwich for this feel good, community wellness event?
In 2016, 470 people, including top runners from Southeastern New England, participated in the Norwich WinterFest 5K, filling the streets with friends and family cheering them on. Runners, walkers, rollers, and strollers dressed as Christmas trees, wore ugly sweaters, and brought strong competition to the area. With the Norwich WinterFest parade immediately following the race, spectators and runners joined the crowds downtown to experience the sites and flavors of Norwich.
Reliance Health, a Norwich-based non-profit organization for over 40 years, is a community leader in wellness. We are proud to offer the Norwich WinterFest 5K as a true community wellness event, but we cannot do it alone. We need you to help us build on this expression of community leadership by becoming a sponsor for the 2017 Norwich Winterfest 5K.
With your sponsorship Reliance Health can ensure a fun and successful day for participants and spectators alike.
Runners will be able to receive t-shirts, awards, and complimentary drinks and snacks
A free FitKids! Race will be offered with t-shirts and medals for all children who participate
Face painting, vendors, and family friendly activities for everyone
Winterfest Parade following the 5K
Will you partner with Reliance Health to bring wellness to the community by sponsoring the 5th annual Norwich WinterFest 5K? Feel free to contact Nicole Reynolds at (860) 887-6536 ext. 275 or This email address is being protected from spambots. You need JavaScript enabled to view it. to discuss sponsorship further.
We look forward to working with you,
David Burnet, Chief Executive Officer